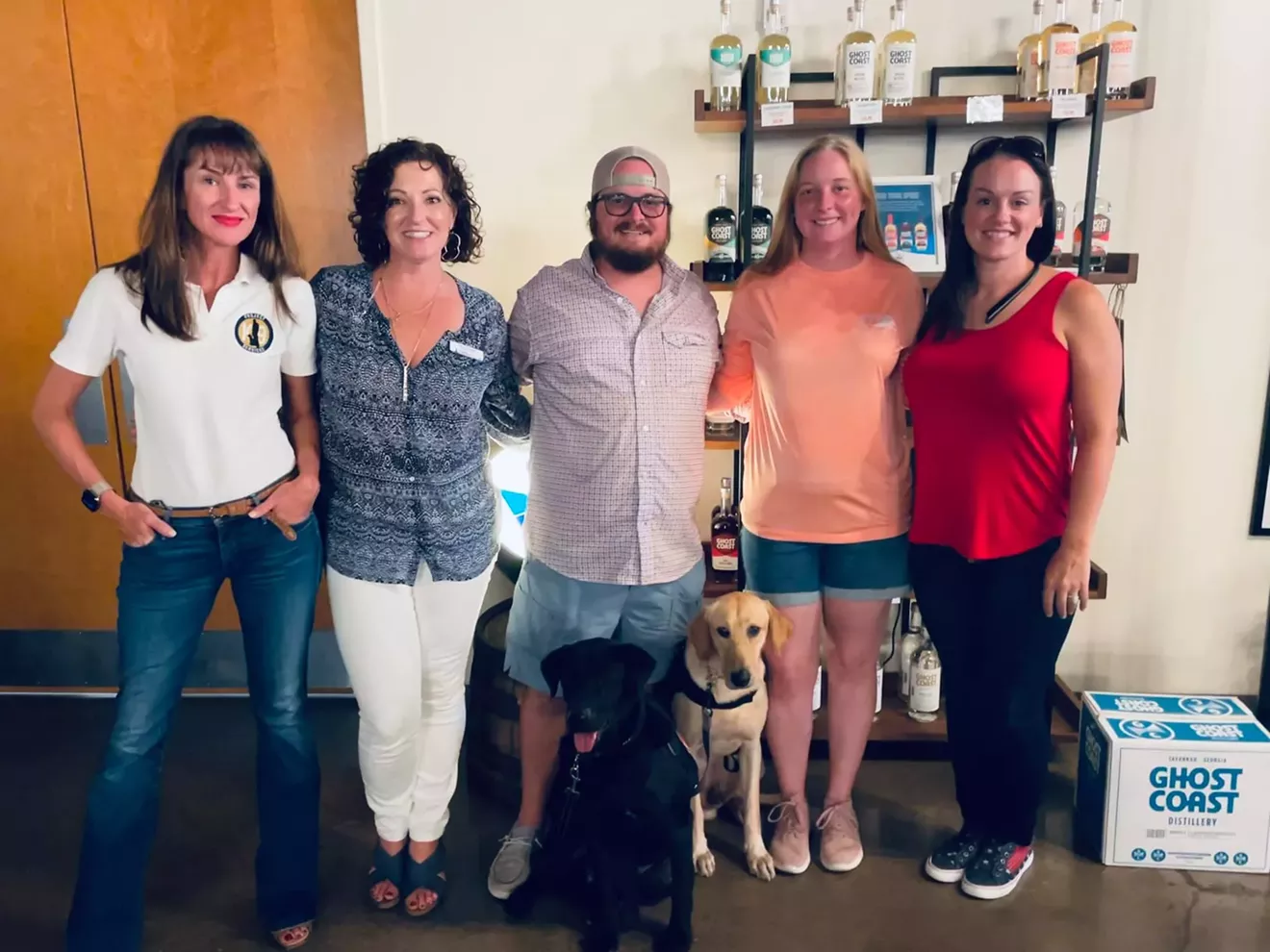 On the 20th Anniversary of September 11, the Savannah Kennel Club Hosted a Fundraiser for Service Dog Organizations Helping Veterans | Community | Savannah News, Events, Restaurants, Music
[ad_1]
September is National Assistance Dog Month and on Saturday September 11, the Savannah Kennel Club hosted a fundraiser, "Cocktails and Canines" to support various organizations that train service dogs that help veterans.
The fundraiser included live music from VooDoo Soup, krazian food trucks, raffles and more.
"The Savannah Kennel Club regularly gives back to the community and we do something every month. September being National Assistance Dog Month, it just seemed natural to celebrate our assistance dogs and to raise awareness of assistance dog organizations here in Savannah and the surrounding areas, "said Donna Merkle, Community Outreach, Savannah Kennel Club.
The Savannah Kennel Club was established in 1935 and its goal is to improve the human canine bond, promote responsible dog ownership, preserve purebred dogs, and bring the Savannah canine community together.
The Savannah Kennel Club chose to host the event on September 11 to commemorate the terrorist attacks and raise funds for organizations that train service dogs for veterans.
"September 11 is significant and important to me. I remember it like yesterday. So it's important to recognize these organizations that help veterans and first responders who play an important role in our country, "said Merkle.
Altamaha Canine Consulting, LLC., A service dog training company, has been sponsoring the event and working to help owners and their pets live happier and healthier lives together since 2000. The team there designs a program that is realistic to enable the dogs to reach their maximum potential.
"We are a team of 3 who train assistance dogs for various non-profit organizations. This event is a throwback to the local organizations that have supported us, and we just want to shed some light on those organizations and say thank you, "said Jacob Weaver, owner and lead trainer at Altamaha Canine Consulting, LLC.
All proceeds raised that day will go to the non-profit organizations Companions for Heroes, Project Canine Services and SD Gunner Fund.
"All three organizations are local in the region and we always try to support the locals. I think they all play a different role in the service dog industry arena and in helping veterans, "Merkle said.
The mission of Companions for Heroes is to raise awareness of post-traumatic stress disorder (PTSD) and the challenges facing our country's heroes and to rally support for animal adoption in shelters by highlighting heroes and companions relationship.
Project Canine Services strives to provide assistance to serving or retired veterans and law enforcement personnel by offering services and goods to enhance the well-being of their K9 companions in the event of unexpected hardship.
The SD Gunner Fund's mission is to help veterans, children living with disabilities and first responders while inspiring disability awareness through public education and advocacy.
"There is a huge need for assistance dogs right now. Our greatest joy has been training dogs to make life easier for people and help them feel like they have reached a level of normalcy. If we can help them feel that way, that's a great accomplishment, "said Weaver.
"I think it's a special moment, and I think that's the other reason the painting the person did in Saint-Simon is so beautiful and so sharp because it shows the American flag. with the lab service dog and the words on the board, 'it will be a long trip, I will do it with you.' These words have meaning, "Merkle said.
Visit savannahkennelclub.org to learn more about the mission and make a donation.
[ad_2]