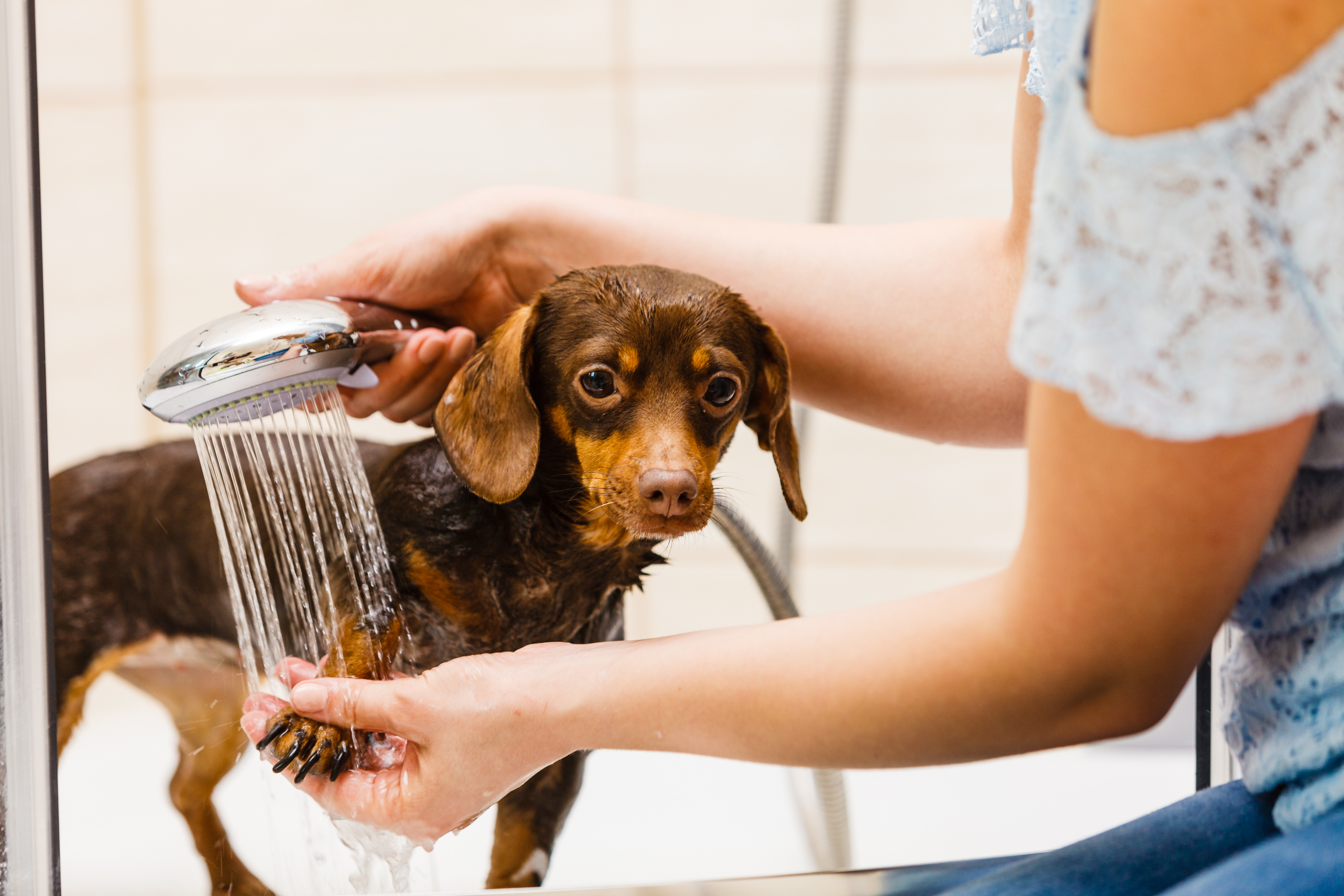 Dachshund 'savors' every second in the shower melts hearts
A video of a dachshund apparently enjoying the water while taking a shower has gone viral on TikTok, where it has amassed 8.3 million views at the time of this writing.
The clip, shared by TikTok user Noodle the Mini Sausage (@noodletheminisausage), was posted with a message superimposed over the video that read, "pov [point of view] when your dog's favorite thing is to take showers."
The video, which has not been independently verified by Newsweek, shows the dog bobbing its head under a steady stream of water in what appears to be a sink or tub. We see the dachshund positioning his face directly against the current of the water, his eyes closed and his tongue sometimes sticking out.
So why do some dogs like water? Some are bred to work there, in tasks ranging from retrieving game to hunting and rescuing. For water dogs, swimming is part of their natural activities.
But not all dogs are born for water, including those with short legs (like dachshunds). They "will find the exertion of swimming very difficult", says the People's Dispensary for Sick Animals (PDSA), a UK-based charity.
The American Kennel Club (AKC), the world's largest registry of purebred dogs, says "Dachshunds are not designed for intense running, jumping, or swimming."
But these "intelligent and alert" dogs with "a big dog bark" are "bred to be independent hunters of dangerous prey," according to the AKC.
The PDSA says being in water can be "especially good for dogs with stiff or sore joints" and also helps animals cool off in hot weather.
Other water-loving dogs that were born to swim include the following, according to the AKC:
American Water Spaniel
spanish water dog
standard poodle
labrador retriever
Barbet
Otterhound
Newfoundland
english setter
The dachshund in the viral video delighted users on TikTok.
In a comment that got 47,500 likes, Pearl the Golden Girl said, "The fact that he relishes this. Pearl [another dog on TikTok] would just bite the water [crying, laughing face emoji]."
In a comment that got 45,100 likes, user ccfhbnn simply said, "Be blessed."
User Balls wrote "feel the rain on your skin" in a comment that got 35,000 likes.
User valuebeansoup said, "I wish my dog ​​liked the water, he acts like it's acid," in a comment that got 20,100 likes.
Newsweek contacted the original poster for comment.
Do you have funny and adorable videos or photos of your pet that you want to share? Send them to [email protected] with some details about your best friend and they could appear in our Pet of the Week range.